It is no longer breaking news that you can use kratom to relieve chronic pains and other conditions. However, if you are asking questions such as, "can you use kratom for depression and anxiety?", there are some things you must consider.
Kratom is a tropical evergreen tree in the coffee family native to Southeast Asia and can be mostly found in Thailand and other tropical countries. Kratom, when tested, produced opioid properties with stimulant-like effects after consumption. Although evidence has backed it up that kratom can help alleviate symptoms of depression and anxiety, the U.S Food and Drug Administration (FDA) hasn't approved its usage. If you want to get desired results, you must be careful with the type of vendor you deal with. For this reason, we will advise that you purchase your kratom from Get Kratom Today, the most trusted dealer of the substance.
How Does Kratom Work For Depression And Anxiety?
Kratom isn't technically an opioid. It's just that it exhibits similar effects to those of opioids, such as morphine and codeine. Mitragynine is the active ingredient in kratom, and it binds with opioid receptors in the brain, thereby relieving pain. This action might be behind the antianxiety and antidepressant effects reported by kratom consumers. According to a recent study, it is confirmed that kratom enhances mood and relieves anxiety in some users.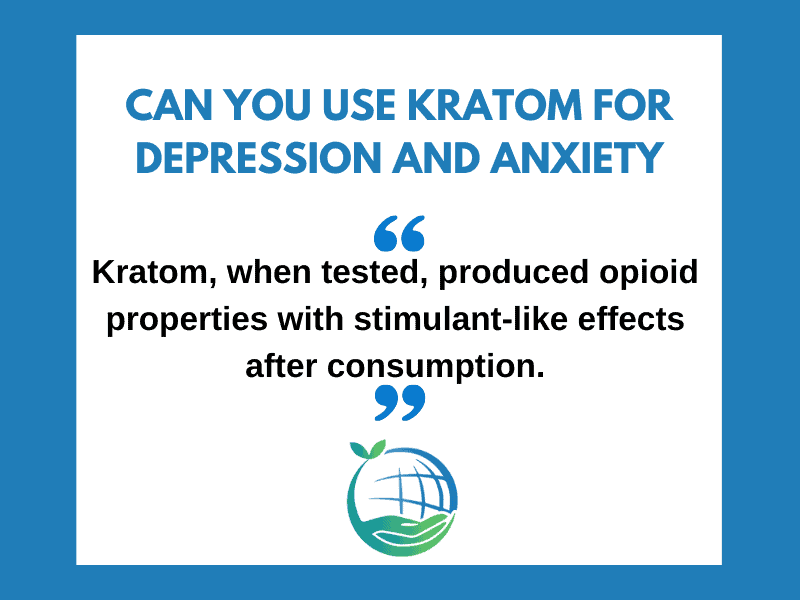 In conjunction with treating anxiety and depression, kratom is known to treat the following:
Muscle aches
High blood pressure
Opioid addiction and withdrawal
Post-traumatic stress disorder (PTSD)
Pain
Diarrhea
Fatigue
Your content goes here. Edit or remove this text inline or in the module Content settings. You can also style every aspect of this content in the module Design settings and even apply custom CSS to this text in the module Advanced settings.
As stated above, the active ingredient for kratom is mitragynine and is obtained from the leaves of the kratom tree (mitragyna speciosa). Furthermore, when kratom is consumed at lower doses, mitragynine gives an energizing effect and at high doses has a sedative effect making the user feel "high." Kratom is illegal in a lot of countries like Australia, Denmark, and even Thailand. In some other countries where it is not illegal like the United States, efforts are being made to regulate access to the substance.
How Is It Used, And Is It Safe To Ingest?
Kratom can be consumed in five different forms which are:
Capsules
Tablet
Gum
Tinctures
Extracts
In some cases, people consume kratom leaves dried or fresh. Sometimes, it is even boiled and taken as a tea. Irrespective of how you want to use it, we have it at Get Kratom Today. Our goal is to provide only the highest quality kratom for our clients. We will also educate you on the usage of each kratom strain and its respective effects.
There is little information about the dosage of kratom for depression and anxiety. Although we have come up with this article to address the issue, you should take your time to learn about the benefits and risks that come with it. For some people, the benefits outweigh the risk, but for others, it does not.
Most importantly, you should only purchase kratom from trusted vendors. That said, the kratom products we sell at Get Kratom Today are tested for credibility and authenticity before we put them on the market. We are your best plug for organic kratom.